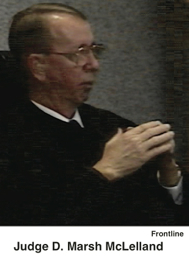 July 15, 2014
"I realize I'm a little flip when I say 80 percent of the evidence is trash, but it is.
"I thought sooner or later some editorialist was going to write, 'That sorry judge should have done something.' And yet if I stopped it, it would have been a problem in an appeal…."
– Judge Marsh McLelland, in an interview published April 1, 1992, in the Greensboro News & Record, shortly after the jury began deliberations in the trial of Bob Kelly
Given that McLelland had been overseeing the Kelly case for more than 17 months – and still had Dawn Wilson's trial ahead of him – I suppose he deserved to grumble a bit about the tedium.
But what an odd comment about wanting to avoid "a problem in an appeal" – did he believe only the defense was responsible for producing "trash" evidence?