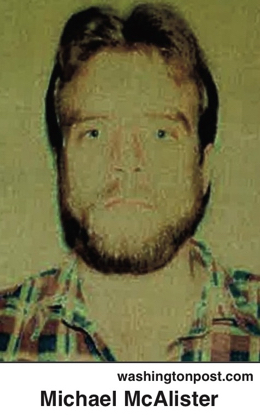 April 18, 2015
"DNA testing has been used 329 times now to prove the innocence of people wrongly convicted of a crime. But what happens when there is no DNA evidence to prove someone's innocence? What happens when there is only his word, and the mounded doubts of the team that prosecuted and convicted him? And what happens when – despite growing certainty that it has imprisoned the wrong man for more than 20 years – the Commonwealth of Virginia stands poised to keep him locked up, possibly forever?
"Of all the maddening stories of wrongful convictions, Michael McAlister's may be one of the worst. For starters, he has been in prison for 29 years for an attempted rape he almost certainly did not commit…."
 – From "This Man Deserves a Pardon" by Dahlia Lithwick at Slate (April 13)
Michael McAlister's story surely qualifies as "one of the worst," but forgive me if I think Junior Chandler – coincidentally now serving his 29th year of imprisonment – has suffered every bit as much injustice.  And in McAlister's case at least a crime was actually committed, just not by him.