Nov. 11, 2011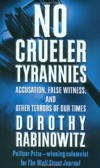 "The first case to raise alarms about predators in nursery schools was that involving the McMartin preschool in Manhattan Beach, California…. In 1983, a woman named Judy Jones charged that 25-year-old Ray Buckey, a teacher and grandson of the school's founder, had sodomized her two-year-old son.
"(Jones) was an alcoholic and subsequently diagnosed as a paranoid schizophrenic.
"After her charge against Buckey (who was acquitted in 1990 along with his mother and school owner Peggy McMartin Buckey), she went on to make the same allegations against a member of the U.S. Marine Corps who had, she said, sexually assaulted her dog."
– From "No Crueler Tyrannies: Accusation, False Witness and Other Terrors of Our Times" by Dorothy Rabinowitz (2003)
 When Rabinowitz, a member of the Wall Street Journal editorial board, won the 2001 Pulitzer Prize for commentary, the judges cited her series on unjustified child-abuse prosecutions.