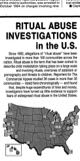 Jan. 4, 2019
In January 1988 the Memphis Commercial Appeal published a 36-page special section recapping its recent series, "Justice Abused: A 1980s Witch Hunt" by Tom Charlier and Shirley Downing.
"Justice Abused" was the first major news coverage to link "satanic ritual abuse" cases across the country and to
characterize them as a witch hunt.
In his Pulitzer Prize-winning criticism of how the news media so often mishandled cases such as McMartin Preschool, David Shaw of the Los Angeles Times credited Charlier and Downing with pointing out "among many other things, the large number of child molestation cases that had resulted in dismissals, acquittals and dropped charges and the startling number of similarities among many of the cases.
Children in both the Memphis and McMartin cases, for example, told of druggings, of animal mutilations, of trips in vans, of bloody rituals, of sacrifices of babies and of being taken on airplanes that resembled those of Federal Express."
Until now this historically important series has not been available digitally. It is archived in two pieces here and here on our Bookshelf.