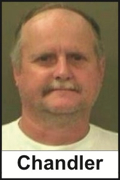 Feb. 15, 2012
I asked Mark Montgomery for an update on Junior Chandler's latest appeal of his two life sentences for child sexual abuse:
"There are two prongs to the appeal. First, I am asking the N.C. Supreme Court to simply do the right thing by Junior. The Court said in 2010 that expert testimony like that in Junior's case is (and was) inadmissible. That being the case, it is fundamentally unfair for Junior to be facing the rest of his life in prison, when many defendants have been freed because this sort of testimony was used against them at trial.
"Second, Junior's lawyer objected to the testimony but did not raise the issue on appeal. I argued in a motion in Superior Court that the lawyer was ineffective for abandoning the issue. The Superior Court judge denied the motion without a hearing. If the Supreme Court will not itself set aside Junior's convictions, it should at least require a hearing on trial counsel's conduct."
This is how the process works: "Petitions such as Junior's go to one of the six associate justices. He or she decides what should be done and then presents the case to the court as a whole in a monthly (sort of) closed door meeting. The justices then vote on whether to grant the petition. If the Court grants the petition, it usually requires full briefs from both parties, but may decide the case of the basis of the petition and the State's response alone.
"If it denies the petition, that's the end of the road."
The court could respond as early as April 13, according to this chart of petitions allowed and denied.