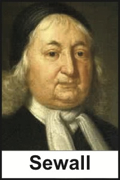 Feb. 24, 2012
"Samuel Sewall was one of nine judges appointed to hear the Salem witch trials in 1692.
"Five years later he stood up in church in front of the congregation while the minister read out his apology.
"None of his colleagues on the bench followed suit."
– From "Judge Sewall's Apology: The Salem Witch Trials and the Forming
of an American Conscience" by Richard Francis (2005)
No regret – or even doubt! – has ever been expressed by Judge Marsh McLelland, by prosecutors H.P. Williams, Nancy Lamb or Bill Hart or by the misguided therapists who served not the children but the Little Rascals prosecution team.
Do they ever give a passing thought to the lives they ruined?