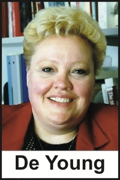 April 6, 2012
"Parent-experts made a specific kind of sense of their children's behaviors and emotions by retrospectively interpreting them as sequelae of day care ritual abuse rather than as reactions to familial stress, the vicissitudes of growing up or, for that matter, the stress of the investigation and the interrogations. ….
"Parent-experts testified that they never had reason to worry about their children's behavior until they disclosed ritual abuse. Then, to the parent-experts, the tantrums, fears and sleep disturbances that once had looked like nothing more than normal growing pains were retrospectively interpreted…."
– From "The Day Care Ritual Abuse Moral Panic"  by Mary De Young (2004)
Judge Marsh McLelland's allowing parents to testify as experts about their children's behavior was one of the key defects pointed out by the N.C. Court of Appeals in overturning the convictions of Bob Kelly and Dawn Wilson.