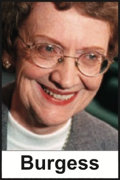 July 9, 2012
What happens to a social scientist who builds her career on exposing illusory "sex rings" and "ritual abuse" at day cares? And, more specifically, whose seminar at Kill Devil Hills apparently seeded the hysteria behind the prosecution of the Edenton Seven?
If you're Ann Wolbert Burgess, it's no problem. You just plunge ahead – and don't look back.
Here's how Debbie Nathan and Michael Snedeker described Burgess in 2001 in "Satan's Silence: Ritual Abuse and the Making of a  Modern American Witch Hunt":
"promoter of the use of children's drawings to diagnose sexual abuse, developer of the idea of the sex ring, participant in developing the case that imprisoned the Amirault family and currently a researcher into the traumatic aftereffects of ritual abuse."
For some people, that would be a career's worth of wrongheaded ideas. But Burgess, now professor of psychiatric mental health nursing at Boston College, continues to accumulate merit badges on new topics such as heart attack victims, AIDS, infant kidnapping, online predators, nursing home abuse, women in prison, mass murder and elder abuse. Here she is in Raleigh on May 29 testifying as "an expert in crime scene classification and offender typology."
Whew.
I've asked Dr. Burgess to reflect on Little Rascals and other examples of ritual abuse prosecutions. Too bad the subject didn't come up when she was on the witness stand in Raleigh.