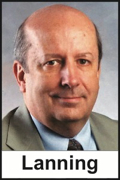 Oct. 29, 2012
"For at least eight years American law enforcement has been aggressively investigating the allegations of victims of ritualistic abuse. There is little or no evidence for the portion of their allegations that deals with large-scale baby breeding, human sacrifice and organized satanic conspiracies."
– Kenneth V. Lanning, supervisory special agent at the behavioral science unit, National Center for the Analysis of Violent Crime, FBI Academy, Quantico, Va. (Aug. 19, 1991)
Two decades later, what's most striking about agent Lanning's statement isn't the content – what could've been more predictable? – but the context: The moral panic held such sway that the FBI was forced to devote no less than eight years to discrediting it.
Lanning's 1992 analysis (i.e., debunking) of all aspects of satanic ritual abuse has been called "perhaps the most important and influential document ever written on the topic."
Here's what Lanning said about day care allegations:
"Children currently or formerly attending a day care center gradually describe their victimization at the center and at other locations to which they were taken by the day care staff. The cases include multiple victims and offenders, fear, and bizarre or ritualistic activity, with a particularly high number of female offenders. Descriptions of strange games, insertion of foreign objects, killing of animals, photographing of activities, and wearing of costumes are common. The accounts of the young children, however, do not seem to be quite as 'bizarre' as those of the adult survivors, with fewer accounts of human sacrifice…."
Angered by the report, some therapists accused Lanning of being a satanist who had infiltrated the FBI to advance the cause.