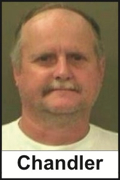 Jan. 14, 2013
Junior Chandler's prospects for at last walking out of Avery-Mitchell Correctional Institution a free man remain bleak. After more than 25 years, he is probably the last still-imprisoned victim of the multiple-victim, multiple-offender ritual-abuse day-care panic.
When the North Carolina Supreme Court arbitrarily and tortuously rejected Junior's appeal, it wrote finis to his options within the system.
Now, however, appellate lawyer Mark Montgomery has referred the case to North Carolina Prisoner Legal Services, a nonprofit law firm that represents inmates whose convictions exhibit significant flaws – a category that clearly includes Junior's.
Mary Pollard, NCPLS executive director, has only begun to examine the file. "The problem with Mr. Chandler's case," she says, "is that he has already had a post-conviction review, which could severely constrain what we can do."
 After Junior submits a formal request for consideration, she expects to make a decision within 90 days on whether to pursue the case.