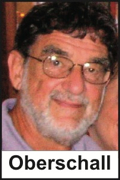 March 7, 2013
Anthony Oberschall's "Why False Beliefs Prevail: the Little Rascals Child Sex Abuse Prosecutions" appeared in "Essays in Honor of Raymond Boudon" (2000).
Most saliently, the UNC sociologist argues that "hysteria" and "moral panic" are inadequate to describe what happened in Edenton. Rather, he sees the town – and the Little Rascals defendants – as victims of the purveyors of "pseudoscience":
"When child sexual abuse became a national issue, the medical profession, academic psychology and social science were just starting to study it scientifically…. The legal profession lacked experience with trial testimony of pre-schoolers and admission of hearsay testimony by parents and therapists….Meanwhile thousands of child sex abuse allegations had to be dealt with.
"In the absence of proven knowledge, a child sex abuse industry of self-appointed 'experts' based on pseudo-science filled the demand for training and informing child protection service workers, social workers, police investigators, prosecutors, therapists and others…. They were convinced they were saving America's children, even though their methods and knowledge were contrary to science and to common sense. In Edenton, the prosecution and the investigators relentlessly labored to supplant common sense with false beliefs based on pseudo-science, (and) they succeeded…."
Working with UNC journalism student David Loomis on his master's thesis detailing news coverage of the case, Oberschall "tried to survey Edenton households by mail (picked names at random from a phone book), but got less than a 10 percent return rate. It was obvious people there didn't want anything to do with an outsider, a scholar."
Rebuffed, Oberschall drove to Edenton himself and conducted perhaps a dozen interviews, which he made use of both in "Why False Beliefs Prevail" and in this more detailed draft working paper from 2010.