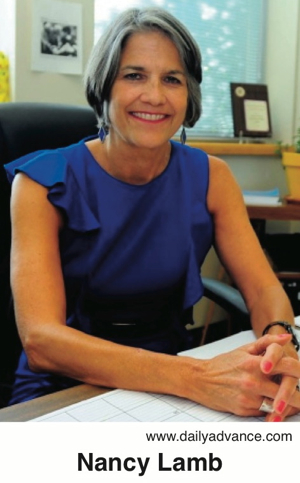 Nov. 22, 2013
"Gov. Pat McCrory has appointed the Albemarle's chief public defender – and a member of the governor's political party – to complete the term of the late Frank Parrish as district attorney in the 1st Prosecutorial District.
"Interim District Attorney Nancy Lamb said she was informed Monday that McCrory had chosen Andrew Womble to complete Parrish's term…
"Lamb, who had sought the permanent appointment, said she knew she faced an uphill climb.
" 'I accept this decision for what it is, the partisan prerogative of a Republican governor,' Lamb said. 'I knew that as a registered Democrat that an appointment by this governor would be a long shot.'
"Lamb said she plans to complete a 30-year career as a prosecutor in the 1st Prosecutorial District on Feb. 28.
" 'I am proud of the job I have done representing the citizens of this district, especially victims of crime,' she said."
– From "McCrory appoints Womble DA" in the Elizabeth City Daily Advance (Nov. 18) 
Thus are dashed my hopes that Lamb would be facing the voters next year and perhaps having to answer for her prosecution of the Edenton Seven.
Instead, she will be clearing off her desk and then presumably joining her husband, the wonderfully named Zee B. Lamb, who has just taken a new job in Nash County.