Oct. 21, 2011
How would you handle six years behind bars after being wrongfully convicted? Here's how Bob Kelly did it: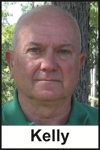 "In jail (in Chowan County before being found guilty) there was nothing but sitting and waiting. Central Prison was easier – I could work.
"A warden told me, 'Whoever kills Bob Kelly will have a trophy. I can put you in lockup, where you'll be safe.' But that would've meant spending 23 hours a day in a cell. I said, 'Put me in the general population. I've got 12 life sentences, and I'm not going to do my time hiding.'
"But I tried to be smart. It was two years before I went outside in the yard. All I could think of was, if I got in a fight, how would that affect the appellate court?… Only one time did a jailhouse gangster lay his hands on me, and I realized I had to stand up to him to keep it from happening again….
"My first job was janitor in G block. I waxed the floor, emptied the trash, kept it like my home. They don't allow bleach, because it would get thrown in the guards' eyes, but I managed to talk a guy in the laundry room out of a bottle. It was great for spraying down the showers. My block was the only one in the whole prison that smelled like Clorox….
"My next job was running the canteen for lockup. The guys who had been there before me had watered down the Cokes and coffee and pocketed the difference. I wanted to run the best canteen I could, so I started giving full measure….
"You know what the other prisoners said? 'You're stupid – don't you know you could be making money?"