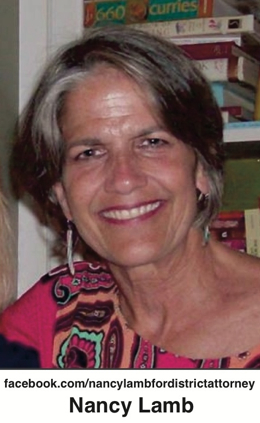 June 3, 2014
"I want all of you to ask yourselves: If you were to find yourself in the unfortunate circumstance of being the victim of a crime, who would you want representing your interest in the criminal justice system?
"Would you want someone like me, with 30 years experience as a veteran prosecutor, a person who has prosecuted every kind of criminal case there is?
"Or would you want someone like my opponent, whose entire criminal experience comes as in the role of being a criminal defense attorney, defending criminals who commit crimes against the people of the 1st District?"
– Little Rascals prosecutor Nancy Lamb, now a candidate for district attorney, comparing herself – most favorably! – with incumbent Andrew Womble
Lamb won the Democratic nomination for DA in last month's primary and will face Republican Womble in the general election. Although her campaign website boasts that she has been  "nationally recognized for her work with child abuse," it somehow neglects to mention her star turn in one of the country's most publicized "satanic ritual abuse" prosecutions. Fortunately, the five months between now and Nov. 4 should provide ample opportunity for her to address that issue.