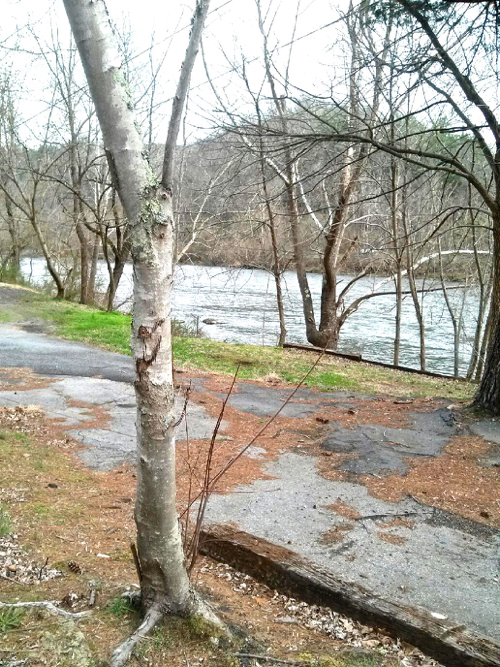 April 6, 2015
A team from the Duke Wrongful Convictions Clinic recently traveled to Buncombe and Madison counties to collect documents from court clerks' offices, to interview witnesses and to inspect locations where Junior Chandler allegedly abused children who rode his day-care bus.
Billy Chandler, Junior's brother, and Clayton Rice, his lifelong friend, guided the Duke investigators (and me) along Junior's daily route. The narrow, twisting backroads led us to the sites along the French Broad River where prosecutors claimed Junior had repeatedly committed the most bizarre sexual crimes imaginable.
The photo at the right shows a typical vantage. It has always seemed incredible to me that Junior – as described in Mark Montgomery's amended petition for writ of certiorari – "would drive off his route to a parking area next to the French Broad River, strip the clothes off the toddlers, troop the naked children down to the river, put them on a rowboat, proceed to insert various objects into their anuses and vaginas, bring them back to the bus, put their clothes back on and deliver them home."
Actually visiting and walking around the supposed crime scenes, which are completely open to neighbors and passersby, only reinforces my impression: The allegations against Junior are simply inconceivable.
So where do things stand as Junior Chandler approaches his 29th year in prison? Clinic co-director Theresa Newman provided this cautious update: "The Duke Wrongful Convictions Clinic has spent the past few months studying the file passed to them by previous post-conviction counsel, researching the developments in the relevant medical and psychological science since the mid-1980s, and otherwise trying to master this complicated and complex case. We are now moving into the next phase of our typical investigation…."
The title of Newman's illuminating TEDx talk at Elon University couldn't be more apt: "Waiting is a Beast."