Dec. 9, 2011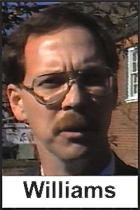 Had former district attorney H.P. Williams Jr. let our conversation drag on beyond 30 seconds on Wednesday, here are some questions I might have asked:
– In all the day care cases of the '80s and early '90s – Little Rascals, McMartin, Fells Acres, Wee Care, ad nauseam – why was not one instance of sexual abuse ever witnessed by an adult?
– Why was not one piece of physical or medical evidence ever presented?
– Would you still argue at Bob Kelly's sentencing hearing that "There is no reason he should be restored to the community at any time"?
– Have you been surprised that, since being freed, not one of the defendants has returned to a life of serial child sexual abuse?
– What would it take for you to admit the Edenton Seven were innocent?
● ● ●
If H.P. Williams Jr. – or any other reader – would like to respond, he is always welcome to do so here.