May 17, 2018
In recent years the Little Rascals Day Care case, probably the most significant event in Edenton in the 20th century, seems to have been a taboo subject in the local Chowan Herald and in the Daily Advance of Elizabeth City. I'm grateful that the Herald has published my letter to the editor in this week's edition: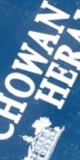 "In the 1990s the town of Edenton was torn apart by the Little Rascals Day Care case, in which seven local people were accused of 'satanic ritual abuse' of dozens of children. The case attracted reporters from the New York Times and Washington Post and received eight hours of documentary coverage on PBS's "Frontline" series. Co-owner Bob Kelly's trial was the longest and costliest in North Carolina history. After Kelly served six years in prison and cook Dawn Wilson three, their convictions were overturned.
"The Duke University Law School Library recently opened to researchers an exhibit and archive on the Little Rascals case, including the transcript of Bob Kelly's trial and numerous other documents. 'The case is one example of the preoccupation with perceived abuse taking place at daycares and preschools in the 1980s and 1990s,' Duke wrote in its announcement. 'Often, these cases also involved allegations of Satanism or devil worship. Like the Little Rascals case, most of these daycare abuse accusations turned out to be false.
"Today no reputable psychologist, social scientist or legal expert will argue otherwise. From Wikipedia to the National Registry of Exonerations, the defendants in cases such as Little Rascals are recognized as innocent victims of a bizarre 'moral panic' that bore striking similarities to the Salem witch hunts 300 years earlier.
"During the years-long prosecution of the Edenton Seven, townspeople were divided family vs. family, friends vs. friends. Today the former Little Rascals Day Care Center is being converted into housing – is that what would happen if townspeople believed it was the site of mass molestation of their children? So where now does Edenton stand?"