Jan. 23, 2012
Last week I visited Avery-Mitchell Correctional Institution in Spruce Pine to talk to Junior Chandler, who soon will have served 25 years on charges strikingly similar to those in the Little Rascals case.
Junior, now 54, may well be the last still-imprisoned victim of the ritual-abuse contagion that swept the nation's day cares in the '80s and early '90s.
I'll be updating his case soon.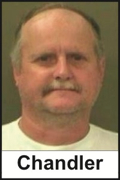 In Junior's former life in the mountain town of Revere, he told me, he was close to his parents, his wife and two boys, his two brothers.
Early on, he and his brothers helped their uncle grow tobacco and corn. Before driving a van for the Madison County Day Care Center, he had worked for the Forest Service, the Department of Transportation and Southern Railroad. At least one job he gave up because it interfered with his softball tournaments and night fishing.
In prison, visits from his family became less frequent, and eventually his wife filed for divorce. "Two life sentences," Junior says. "She couldn't wait, you know." And his sons couldn't keep watching him aging away in his prison grays.
When his father died in 1997, he attended the funeral in handcuffs. He worries about his mother, who recently suffered a stroke.
He sleeps in a bunk bed in a dorm with 33 other inmates. His assigned janitorial job is cleaning meal trays. For relaxation he plays volleyball and horseshoes, watches Westerns on TV, reads a little. His only write-up was a scuffle not long after he arrived. "It's learning to walk away and how to carry yourself," he says.
Of course I was touched by Junior's deep sadness and resignation. Sometimes I find it too easy to minimize the emotional havoc wrought by incarceration of the guilty – just imagine what it must be like for the innocent.