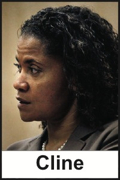 March 21, 2012
"In July 1993, (Tracey Cline) headed to the state's northeast corner to work as a prosecutor in a cluster of counties near Elizabeth City. Her stint there was short-lived, just six months, and unremarkable, according to supervisors….
" 'I hated to see her leave….' (former District Attorney H. P.) Williams said. 'I would have given her a good recommendation.' ''
– From the News & Observer of Raleigh, February 19, 2012
Williams may have nothing to say on behalf of the innocent Little Rascals defendants, but he seems ever eager to speak well of Cline and Durham's other epically unethical DA.