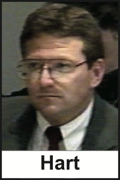 Aug. 6, 2012
Let's say you were a special deputy attorney general called in from Raleigh to help prosecute the Little Rascals case. Now imagine: What would be the most inappropriate, the most ethically questionable way you could possibly spend your spare time in Edenton? How about starting to date the mother of one of the alleged victims?
Yes, that's exactly what Bill Hart chose to do. He and Patricia A. Kephart had been involved for months even before Bob Kelly's trial began.
Readers of this blog won't be surprised to learn that Hart denied any impropriety and blamed the defense for trying "to divert attention from the case."
But Rich Rosen, professor of criminal procedure at the UNC Chapel Hill School of Law, told the News & Observer of Raleigh (Dec. 20, 1991) that "It certainly raises questions in my mind. A prosecutor is not supposed to have any personal involvement or interest in the case."
One question raised in my own mind: Unlikely, yes, but what if Hart had experienced a pang of doubt about the validity of the prosecution's case? Would he have been able to admit that to his girlfriend (much less to his fellow prosecutors)?
At the conclusion of the state's case, prosecutors dropped charges related to Kephart's daughter. Hart and Kephart later married.