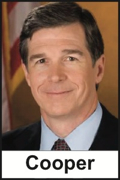 Aug. 13, 2012
I wrote Mark Davis, general counsel to Gov. Bev Perdue, to ask that she issue a "statement of innocence" on behalf of the Edenton Seven. This is Davis's response: "Because the Attorney General's Office handled the appeals in the cases you reference in your letter, I think that office is in the best position to evaluate this issue. I suggest you contact them regarding this matter."
So noted. This, then, is from a letter I sent last week to Roy Cooper, attorney general of North Carolina:
When the Duke lacrosse case collapsed in 2007, you granted the defendants a "statement of innocence." Although the statement was not a formal legal document, as I understand it, it clearly demonstrated your commitment to making amends for a wrongful prosecution by the State of North Carolina.
I am requesting that you take similar action on behalf of the defendants in the notorious Little Rascals Day Care case.
For more than a decade, beginning in the 1980s, day care centers across the United States were victimized by a wave of wholly unsubstantiated charges of "ritual sexual abuse." The testimony of child-witnesses, corrupted by misguided therapists, resulted in dozens of convictions and incarcerations.
In all these cases, charges eventually were dropped, convictions overturned or plea agreements accepted with no admission of guilt.
Today there is no dispute among respected psychiatrists, psychologists and social scientists: The defendants were innocent victims of a "moral panic" that bore striking similarities to the Salem witch hunts 300 years earlier.
One of the most prominent of these prosecutions, of course, was the Little Rascals case in Edenton. Between 1991 and 1997 the PBS series "Frontline" devoted a total of eight hours to the plight of the Edenton Seven, leaving millions of viewers appalled at North Carolina justice.
After the longest and costliest trial in state history, Robert Kelly was convicted of 99 counts of child abuse and sentenced to 12 consecutive life sentences. He served six years before the North Carolina Court of Appeals overturned his conviction.
Dawn Wilson was convicted on five counts of child sex abuse and given a life sentence. She served two years in prison or under house arrest. The Court of Appeals also overturned her conviction.
Betsy Kelly and Scott Privott both agreed to plea deals with no admission of guilt.
Charges against Robin Byrum, Darlene Harris and Shelley Stone were dropped.
After the defendants were released, however, prosecutors continued to insist they were guilty. Exoneration was willfully withheld.
The Little Rascals case not only shattered the lives of the defendants, but also left a deep and ugly stain on the reputation of the State of North Carolina.
In 2001, Massachusetts Governor Jane Swift signed a resolution proclaiming the innocence of the victims of the Salem Witch Trials.
In time, such victims of the ritual-abuse day-care panic as the Edenton Seven will surely receive similar exoneration. Why not now? Why not in North Carolina? This is an opportunity to demonstrate moral leadership on a national scale.
I blog about the case at littlerascalsdaycarecase.org, where you will find an extensive archive and updates. I would be eager to provide additional facts by e-mail or to meet with you in Raleigh at your convenience.
Mr. Cooper, I appreciate very much your attention to reviewing this case and to perhaps mitigating the profound injustice suffered by these seven innocent North Carolinians.
I'll post his response, of course.