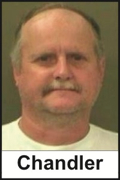 Aug. 15, 2012
The North Carolina Supreme Court won't release its next batch of opinions until August 24, but its recent decision on a 2009 child sex abuse case could augur well for Junior Chandler.
On June 14 the court upheld the North Carolina Court of Appeals' overturning of Patrick Loren Towe's conviction in Surry County. Here's the crucial part of the opinion:
"Under the North Carolina Rules of Evidence, a qualified expert may testify as to her opinion in her field of expertise if the testimony will assist the jury in understanding the evidence. An expert may not, however, testify as to the witness's credibility or state that she believes the defendant is guilty.
"In sexual abuse cases involving child victims, an expert may not testify that sexual abuse has occurred without physical evidence supporting her opinion. An expert may not testify that the child has been 'sexually abused' if the testimony is based solely on the interview with the child-victim."
In Patrick Towe's case, only one expert witness so testified – in Junior Chandler's it was six.
Without such a parade of "expert vouching," Junior surely would have spent the past 25 years back home in Madison County instead of behind bars. How can the North Carolina Supreme Court now fail to acknowledge this?