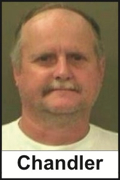 Feb. 4, 2013
Junior Chandler, writing from Avery-Mitchell Correctional Center, January 23, 2013:
"All of the high profile and high publicity cases in the last 20 years –  nearly every one of those people are home…. Except for me and I am still in prison…. April 15, 2013, will be 26 years.
"I know it's extremely hard to get help to prove my innocence when there isn't a crime committed to begin with.
"It doesn't look like I got any help from Gov. Perdue when she left office, as I haven't heard from anyone, nor has my time (sentence) changed any. All I was asking was time served or my time to be run concurrent instead of back to back, as my record on the street before and my record in here should mean something….
"But I guess it don't matter – as I've seen people continually be in trouble (but) make honor grade and get out and then come right back in prison!
"Well, I'll close for now. Maybe someone will be able to help get the truth out!"
Junior's hopes for release now lie with North Carolina Prisoner Legal Services, which is deciding whether to take on his case.