Jan. 2, 2013
What a bittersweet moment, reading Gov. Bev Perdue's statement announcing her pardon of innocence for the Wilmington 10.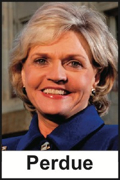 Surely, for the six surviving defendants, the pardon represents far too little justice, far too long delayed. But so many of Perdue's words apply poignantly to a more recent "dark chapter in North Carolina's history" – the prosecution of the Edenton Seven:
"I have decided to grant these pardons because the more facts I have learned… the more appalled I have become about the manner in which their convictions were obtained….
"This conduct (of prosecutor Jay Stroud) is disgraceful. It is utterly incompatible with basic notions of fairness and with every ideal that North Carolina holds dear. The legitimacy of our criminal justice system hinges on it operating in a fair and equitable manner…. That did not happen here. Instead, these convictions… represent an ugly stain on North Carolina's criminal justice system….
"Justice demands that this stain finally be removed. The process in which this case was tried was fundamentally flawed…."
As noted previously, state government has continued to withhold exoneration from the Little Rascals defendants. In addition to these reasons that the Edenton Seven haven't matched the Wilmington 10 in capturing the public eye, there is this notable difference in the two cases:
No one involved in prosecuting the Wilmington 10 remains in office, and the current Pender County district attorney has accepted Perdue's decision without complaint. But two decades after prosecuting the Edenton Seven, Bill Hart and Nancy Lamb remain on the job, no doubt ready to beat down any hint of exoneration.