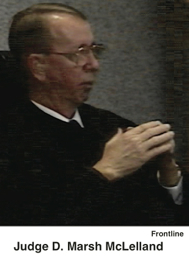 July 5, 2014
"The Burlington judge who has presided over the the Little Rascals Day Care Center case since 1990 resigned in disgust the day after the state Supreme Court refused to review (the overturning of) two convictions.
"D. Marsh McLelland, a retired Superior Court judge, said in a letter dated Sept. 8 that the court's refusal to review the cases 'is legally and morally reprehensible.'
"McLelland's letter to Chief Justice Burley Mitchell said the refusal to review a Court of Appeals order for a new trial raised the term technicality to new heights…."
– From "Judge quits Little Rascals case" from the Associated Press (Sept. 22, 1995)
I imagine that the "technicality" comment was from a direct quote, although I haven't been able to find either McLelland's original letter or a more substantial account. It's no wonder he felt humiliated – the Court of Appeals decision had laid bare his indifference to the rights of the defendants.
Regardless, McLelland's resignation proved irrelevant, as prosecutors decided not to retry Bob Kelly and Dawn Wilson.