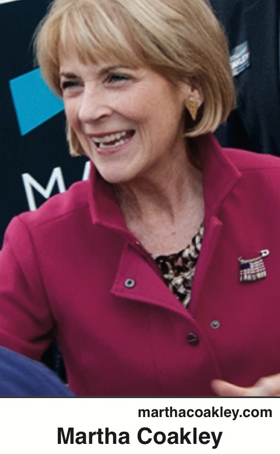 Oct. 24, 2014
"As Middlesex County (Mass.) district attorney, (Martha) Coakley defended the convictions of Fells Acres day-care center operator Violet Amirault and her two children, Gerald Amirault and Cheryl Amirault LeFave. The Amiraults are now widely recognized as victims of the mass national hysteria in the 1980s over supposed child sexual abuse in day care centers….
"In 2000, as the case against the Amiraults had all but collapsed, Coakley opposed the 5-0 decision by the Massachusetts Governor's Board of Pardons and Paroles to commute Gerald Amirault's sentence. To this day, Gerald lives with an ankle bracelet and strict probationary conditions, despite a growing number of people who recognize not only that he committed no crime, but that no crime was committed…."
– From "When Prosecutors Seek Higher Office, Questions Often Remain" by defense attorney Harvey Silverglate at Forbes (Oct. 22)
"Coakley… refuses to acknowledge what any rational person should know, that once again (after the Salem witch trials) Massachusetts had indulged in irrational hysteria. Just what we need, a governor who can't admit she made a mistake…."
– From "Struggling to find the truth behind all the political rhetoric" by Barbara Anderson  in the Eagle-Tribune of North Andover, Mass. (Oct. 19)
At the same time voters in Massachusetts will be be deciding whether to elect Martha Coakley governor, those in the First Judicial District of North Carolina will be deciding whether to elect fellow "satanic ritual abuse" prosecutor Nancy Lamb district attorney. Lamb may share with Coakley not only the inability to "admit she made a mistake," but also the appetite for higher office.