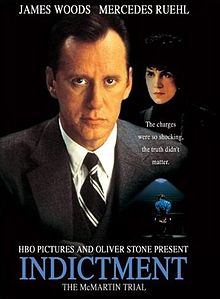 March 31, 2015
"…The watershed event marking the shift in public opinion on these ("satanic ritual abuse" day care) cases was the HBO airing of 'Indictment: The McMartin Trial' (watchable here on YouTube) in May 1995, wherein Ray Buckey, the child-molesting villain of the McMartin trial, was recast as the victim of a hysterical conspiracy theory.
"Five years earlier, no major television network would have dared question the infallibility of the testimony of ravished, innocent babes. A network like HBO is closely attuned to shifts in the public mood.
"Such TV dramas and feature films are generally more likely to respond to existing trends in public opinion on controversial issues than to break new ground, and so this docudrama marked a sort of closure on the issue in the public imagination, though the judicial system cannot shift direction so quickly."
– From "The Metanarrative of Suspicion in Late Twentieth-Century America" by Sandra Baringer (2004)
Eighteen days before HBO broadcast "Indictment," the North Carolina Court of Appeals had overturned the convictions of Bob Kelly and Dawn Wilson, but Kelly's torture at the hands of the state was far from over: A year later he would be charged with raping a young girl outside the day care in 1987. Was prosecutor Nancy Lamb unable to "shift direction so quickly" – or simply unwilling?