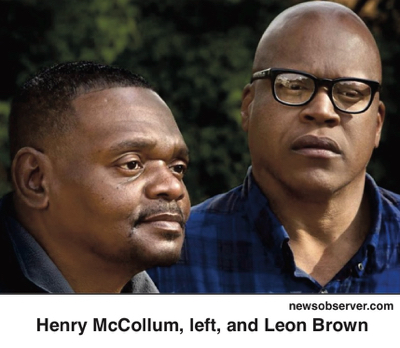 June 4, 2015
"Gov. Pat McCrory on Thursday pardoned two half-brothers who were exonerated of murder after spending three decades in prison.
"The governor took nine months to make the decision…."
– From "Governor pardons McCollum, Brown" by Craig Jarvis in the Raleigh News & Observer  (June 4)
Henry McCollum and Leon Brown, both intellectually disabled and now destitute, had been declared innocent last year by a Superior Court judge. But that exoneration, based on DNA evidence from the crime scene, wasn't good enough for the governor, and even now the statement accompanying his pardon of innocence is lukewarm at best:
"It is difficult for anyone to know for certain what happened the night of Sabrina Buie's murder…. I know there are differing opinions about this case and who is responsible…."
McCollum and Brown now qualify for $50,000 for each year they were imprisoned, up to a maximum of $750,000 – unless McCrory decides that process demands further investigation as well.
Read more here.