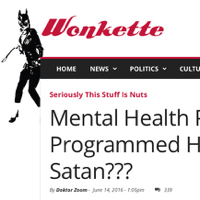 June 16, 2016
"We thought "satanic ritual abuse" was a wholly debunked artifact of the 1980s, but apparently there are still a few 'therapists' out there dedicated to 'helping survivors'….
"According to the Satanic Temple (who aren't really "Satanists" so much as anti-theocracy advocates), the 'therapists' seem to be the ones who are desperately in need of help. And perhaps having their licensure revoked….
"The Satanic Temple's 'Grey Faction' – 'dedicated to combating pseudoscience and witch-hunting conspiracism with rational inquiry' — has posted a petition at Change.org asking the Massachusetts Office of Consumer Affairs and Business Regulation to investigate counselor Neil Brick….
"Brick, head of something called 'Survivorship,' runs conferences where some seriously weird advice is given. For instance, you shouldn't trust your spouse, since they may actually be an agent of the mind-control conspiracy. The petition asks Massachusetts authorities to investigate a number of 'potentially dangerous' and 'radically paranoid, unsubstantiated, delusional beliefs'  pushed by Brick:
Neil Brick claims to believe that he was brainwashed to be an assassin for the Illuminati/Freemasons.
Neil Brick claims that, as part of his brainwashing by the Illuminati/Masonic conspiracy, he was programmed to rape and kill "without feeling."
Neil Brick claims that he once murdered a man in an unreported incident in Europe.
Neil Brick holds regular conferences wherein his delusional beliefs are propagated to mental health consumers by him and his co-conspiracists.
At a very recent conference (May 2016), Neil Brick expressed concern that attendees could "trigger" mind-control programming by touching their faces. Neil Brick imposed a prohibition against face-touching and asked that people sit on their hands. (Keep in mind, this is a man who claims that his own mind-control programming impels him to rape and kill. The implication is clear.)
Neil Brick continues to propagate debunked and disregarded narratives of concealed occult crimes from the height of the "Satanic Panic."
Neil Brick demonstrates a complete lack of understanding regarding cognitive/behavioral development, claiming to believe that Masons and/or Satanic cults torture fetuses so as to begin mind-controlling them at the earliest possible stage.
– From "Mental Health Professional Thinks Someone Programmed Him To Murder. Could It Be … Satan?" at Wonkette (June 14)
It took several requests, but in 2012 the Charleston-based nonprofit Darkness to Light withdrew its approval of Brick's Survivorship site.